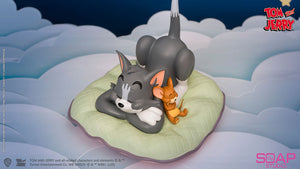 This is a Pre-order!
Pre-Order Price Php 6,900.
Deposit Php 1,000. (You will be charged this amount and balance will be due when the item arrives).
ETA: 1st Qtr 2021.
Price is for store pick up. Shipping fees for those who want this shipped will be calculated when the statue arrives.
Balance is due 7 days from date of arrival in our stores.
PVC Collectible Figure by Soap Studio.
Based on the classic cartoon "Tom and Jerry" created by William Hanna and Joseph Barbera.
Measures 8-inches tall.
Price indicated is only for the deposit/downpayment.